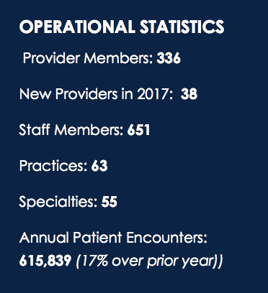 Our major milestones and accomplishments extended through our entire organization, from our people to our patients and the community we serve:

Our People
In late 2016, Foundation made a commitment to cultivate an environment that supports resiliency and prevents burnout for our physicians, allied health professionals and staff. We formed a Burnout Advisory Group to develop a multi-year framework for this initiative, and interviewed staff across the organization to understand concerns and generate ideas that translated into plans, programs and initiatives all focused on reducing stress and improving professional satisfaction. Initiatives included:
Bringing in speakers and sending providers to workshops to learn about resiliency, tools for self-care and managing stress.
Introducing pilot programs with Scribes and PA-Cs to increase professional satisfaction among our care teams.
Additional centralized service support to our practices for prior authorizations, data entry, indexing and medical record releases.
A new Emerging Leadership Program to support the development of providers in future leadership roles.
Our Organization
Foundation Medical Partners celebrated our 25-year anniversary at a summer picnic and fall cruise on the Mount Washington. 2017 also marked a number of milestones, including:
Our 5 year anniversary as a clinical affiliate of Massachusetts General Hospital with another 5 year contract and plans to extend the reach of our partnership.
Welcoming our first rotation of third year medical students from UNECOM
Expansion of Telehealth Services to include behavioral health.
Southern New Hampshire Health also entered into a combination agreement with Elliot Health System to form a new regional health system – Solution Health – that will facilitate provider and clinical collaborations to expand the scope of services to better meet the needs of more than half a million residents of Southern New Hampshire.



Our Patients

As we continue to meet the demands of our growing population, 2017 was a year of continued growth, including:
The expansion of primary care and many of our specialty programs.
Opening of our seventh community-based "walk in" Immediate Care location; a program uniquely distinguished in New England as providing Patient Centered Connected Care (NCQA distinction).
Introduction of Care Team Redesign as a practice-based model to improve care coordination, professional satisfaction and our patients' outcomes and experience.
We received NCQA Accreditation with the recertification of Patient Centered Medical Home in Primary Care.
Our Communities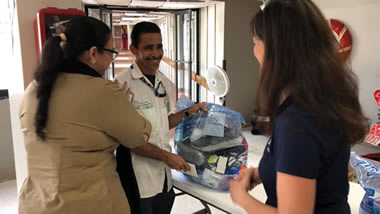 Many of our colleagues volunteered in community initiatives.
SNHH expanded and took a leadership role in the coordination of Behavioral Health services.
SNHH gave over $6,000,000 in Charitable Care to the greater Nashua community.
SNHH led a local effort to support a hospital in Puerto Rico devastated by Hurricane Maria.
--
Would you like to join a healthcare system located in one of the "Top 25 best cities for physicians?"
If so, please visit our Job Board.