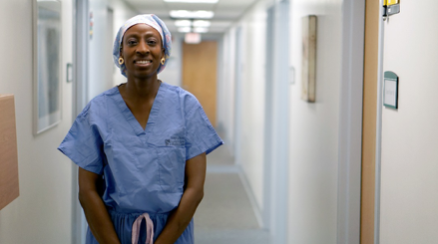 We are proud to offer comprehensive breast cancer care locally by Foundation Surgery's Dr. Salewa Oseni. Dr. Oseni is a Mass General physician and one of New England's only oncoplastic breast surgeons seeing patients here in southern NH.
Dr. Oseni shares a passion for assuring all women receive the appropriate breast cancer screenings at the appropriate time and has completed research with her Mass General colleagues that could support modified screening recommendations based on age/race.
Dr. Oseni's recent research was of paramount importance to the June issue of the Journal of the American Medical Association's article titled Race/Ethnicity and Age Distribution of Breast Cancer Diagnosis in the United States.
The importance of her work is clear as even in the abstract of the article, medical professionals can learn a lot about differentiation within patient populations. For instance, a paragraph in the article stated that, "The US Preventive Services Task Force (USPSTF) currently recommends initiating breast cancer screening at 50 years of age in patients at average risk. However, we hypothesize that these guidelines may not be sensitive to racial differences and may be inappropriately extrapolating data from largely white populations for use in racially diverse populations. This process could result in underscreening of nonwhite female patients."
As you can see by the JAMA charts below, there is a wide amount of variation among the different patient populations.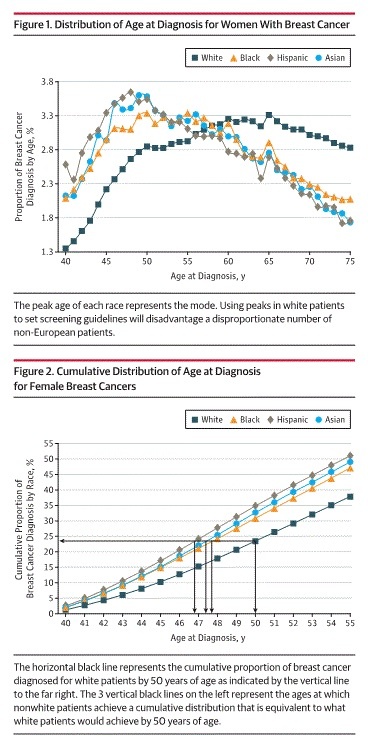 The data featured in this research was derived from the Surveillance, Epidemiology, and End Results (SEER) Program database from 1973 through 2010 and featured females from age 40 to 75 that were dealing with malignant breast neoplasms (a total of 747,763 women). Among the most important findings was the fact that a larger amount of non-white patients were diagnosed with breast cancer prior to age 50 in stark contrast to white women whose median diagnosis age was 59.
This information is so important as it will allow providers to start screening patients earlier based on previously unknown risk factors.
Click here to view the complete article and findings.