Each month a Mass General-led trauma conference draws community first responders who come to learn from experts about ways to best manage trauma patients. This education is then translated into the field to help improve patients' chance of survival before they reach the Emergency Department and SNHMC trauma team and ultimately save lives.
David King, MD, FACS, LTC, US Army, Joint Special Operations Command, Division of Trauma, Emergency Surgery & Surgical Critical Care at Massachusetts General Hospital recently presented at Southern NH Medical Center Trauma Rounds about a revolutionary, potentially lifesaving foam he's developed that was recently FDA approved for a clinical trial.
ResQFoam, which has been ten years in the making, is a self-expanding polyurethane trauma foam designed to stop internal bleeding and stop someone from bleeding out before they make it to the operating room. The foam is designed to temporarily stop bleeding buying critical time for a patient who otherwise be at risk of death. The product was developed by Dr. King and a team from Arsenal Medical in Watertown, Massachusetts after testing more than 1,200 foams.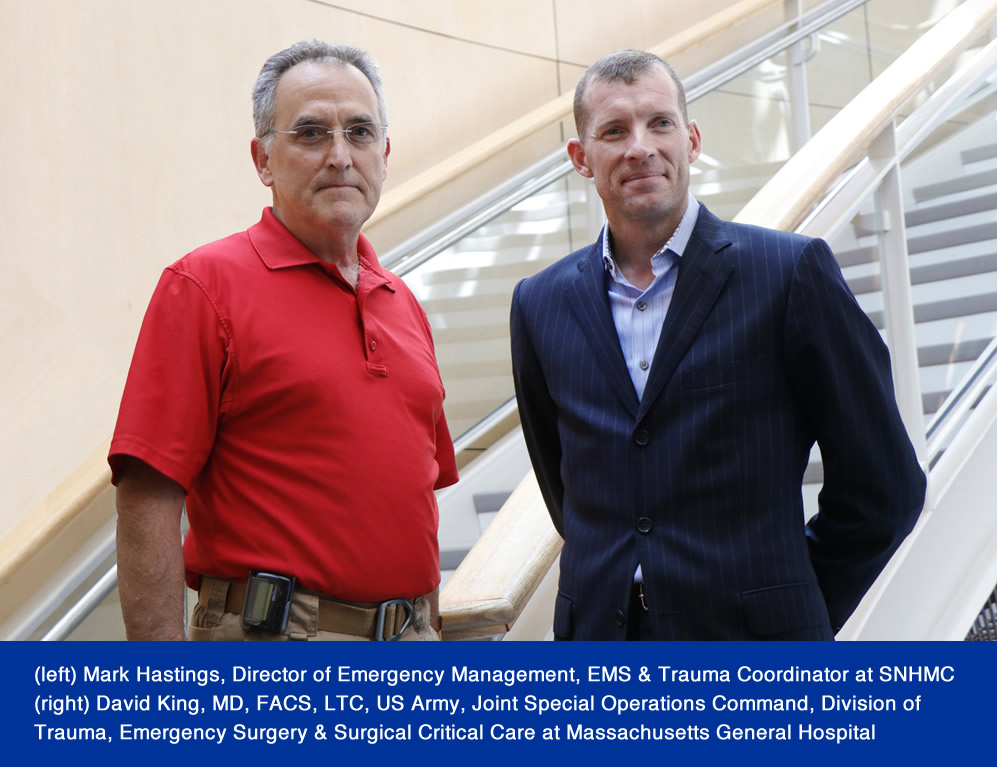 According to King, The foam starts as two liquids injected into the body through the belly button, then it expands in the abdomen. "It wraps around injured tissues and injured organs and puts gentle pressure on them which temporarily slows or stops hemorrhage," he explained.
The approved Clinical Trial will investigate the use of ResQFoam for control of severe, life-threatening, intra-abdominal bleeding. It will be used on adult patients that have suffered an injury causing severe bleeding in the abdomen that requires emergency surgery to repair. This could include victims of gun violence, motor vehicle accidents, or other injuries causing severe, uncontrollable blood loss in the abdomen. The device is inserted into the abdomen, expands and applies pressure to the wound to stop the bleeding.
Patients who will receive this investigational device are those who come into the emergency room and may be too sick to give permission for themselves, for this reason a survey is being performed to gauge community response to the use of this device. Click here to take the survey!
Learn more about ResQFoam.
Dr. King is a renowned trauma and acute care surgeon with military combat experience at the Massachusetts General Hospital Trauma Center. Among his expertise is extensive experience caring for the acutely injured and traumatized, emergent surgical illnesses, as well as surgical critical care. Dr. King treats all conditions that are the result of penetrating injuries, such as gunshot and stab wounds, as well as blunt trauma such as falls, assaults, and motor vehicle crashes. Learn more about Dr. King.
Through the Trauma Program at Southern New Hampshire Medical Center, patients have access to a 24/7 dedicated trauma team in Nashua.
This group includes an onsite Mass General trauma surgeon and some two dozen specialists who, when activated, can gather within 30 minutes and through a streamlined approach, triage and transfer patients more quickly to the operating room or the ICU. If needed, patients are airlifted to Mass General for further treatment.
A key benefit of this enhanced trauma program is training that brings new skills, information, and resources to first responders—police, fire and emergency medical services— in our community.