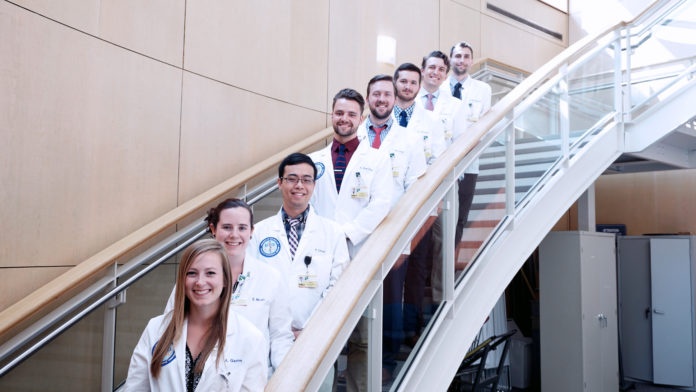 We are excited to welcome a new group of medical students from University Of New England College Of Osteopathic Medicine!
Featured above are medical students: Amanda Gagnon, Elizabeth Monis, Timothy Choy, Andriy Barchuk, Thomas Rooney, David Shbeeb, Zachary Abbot, Steven Wojtkiewicz. They will be completing eight, six-week rotations which will include the following specialties:
Internal Medicine
Family Medicine
Pediatrics
Surgery
Behavioral Health
OB
Community Service
We recently sat down with one of our students to learn more about them and their experience thus far.
Get to know UNECOM Med Student David Shbeeb!
Where is your hometown?
Akron, Ohio
How has the SNHH program been so far?
SNHHS is an excellent learning environment for a third year medical students. The medical and administrative staff have been very friendly, welcoming, and great at teaching all aspects of patient care. There has been a good balance between hands-on learning and learning through observation or lectures.
Which rotation interests you the most?
One rotation that I think will be valuable in my growth as a medical student is my psychiatric rotation. Managing patients with mental health needs has become an important part of practicing as a physician regardless of specialty. I know that learning how to approach difficult conversations regarding topics such as substance dependence, depression, and suicide will make me a better physician, and in the long run, it will benefit my future patients as well.
What has been your most memorable experience so far?
As a medical student, I have been given the ability to be a part of significant moments in peoples' lives. I have the opportunity to be part of the team that delivers a newborn baby or discusses a new diagnosis of cancer. These moments have stuck with me the most. One moment I will never forget occurred after one of my patients received a difficult diagnosis. When I walked into the room, he stood up to shake my hand and thank me for being a part of his care. As a student, it is easy to feel like an observer, but this experience reminded me that I do have an active role in patients' lives.
What is your favorite part about Nashua?
The variety of restaurants and the good people.
What have you done for fun in your spare time since you moved to the area?
Visiting the local parks with my wife and son, playing pick-up soccer, and making trips to the white mountains to hike or shop on the weekends
How do you balance school and life outside of school?What is your favorite restaurant in Nashua?
My wife and I enjoyed our tapas experience at Stella Blu.
I think it is important to set good boundaries in my life between school and work, and I do my best to study at the hospital or at coffee shops rather than at home. When I am home, I try to be as mentally present as possible.
Do you have any hobbies?
With my free-time, I enjoy soccer, rock climbing, hiking, camping, and playing piano.