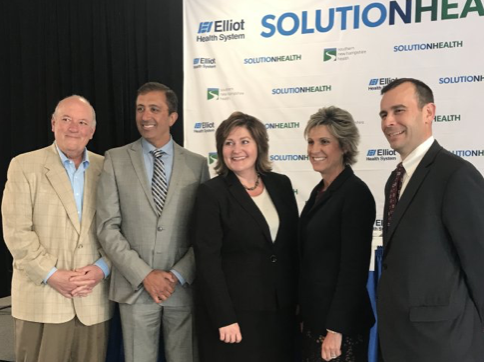 From left, Elliot CEO Doug Dean; Dr. Praveen Suchdev, vice chairman of SolutionHealth; Hausmann; Diane Mercier, chairwoman of SolutionHealth; and Mike Rose, CEO of Southern New Hampshire Health.
The newly formed SolutioNHealth is a highly coordinated community-based regional healthcare network comprised of Elliot Health System and Southern New Hampshire Health, whose purpose is to better serve the healthcare needs of the region by improving and increasing access to care, enhancing quality, value and community benefit.
Sherry joined SolutioNHealth after serving as Regional Hospital President for Via Christi Health, the largest integrated health delivery system in Kansas and a member of Ascension Health. During her tenure at Via Christi, Sherry provided executive leadership and oversight of multiple hospitals and associated outpatient networks, and educational programs.
Prior to Via Christi, Sherry spent more than 12 years at SSM Healthcare, based in St. Louis, MO, advancing through a series of leadership and executive roles that culminated in her being appointed President of St. Clare Health Center, the first new hospital to open in St. Louis County in more than 30 years, with 945 staff physicians and 1,000 employees. She had previously served as president of SSM St. Joseph of Kirkwood and Chief Operating Officer of SSM DePaul Health Center. Prior to SSM, she worked in various roles in for-profit ambulatory care.
A native of southern Illinois, Sherry began her career as a clinical practitioner, having received her BS in Nursing from Southern Illinois University at Edwardsville. She received her MBA from Maryville University in St. Louis.